Lest we forget

October was a month that I will never forget. First up was Henry Angel-James' memorial service at St Martin in the Fields, London. I travelled down with Lulu, and the church was packed – over 700 people there, including literally dozens of friends I haven't seen for 20 years or so.
The service was remarkable. Sally, Henry's widow, spoke very eloquently, the choir was from Henry's prep school, and the eulogy was brilliant. I have never been to a service where every 'performance' was applauded (this was instigated by Sally). The piece de resistance, however, was Henry's 10-year-old son Harry relating a long list of 'Fun facts about my dad' – from 'Julia Roberts was his fantasy woman, hotly followed by Meg Ryan' to 'He was brilliant at building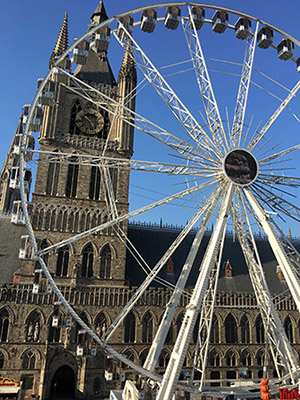 sandcastles', via 'He didn't understand what scatter cushions were for, neither do I' and 'He gave the best hugs'… all delivered with perfect timing and aplomb. Definitely his father's son.
Shortly after this, I headed off to Ypres. Before getting to my destination I stopped off at Lijssenthoek Military Cemetery – the second largest cemetery for Commonwealth forces in Belgium, and the final resting place of the dead from four nearby Allied casualty clearing stations which together made up the biggest evacuation hospital in the Ypres Salient. It was a sobering start to my trip.
I stayed at the New Regina Hotel in Ypres, which I thoroughly recommend, not least because it is next door to a wonderful chocolate shop. My room looked out over the Cloth Hall and Grote Markt, and was just a few minutes walk from the Menin Gate.
The next couple of days were harrowing. Leaving Ypres early each morning via the Menin Road and Hellfire Corner I visited Sanctuary Wood, Hooge, The Bluff and Passchendaele, with countless stops in between.
I came across a non-censored and heart-wrenching collection of old glass slides taken at the front, a painful record of the scale of death and brutality. I twice witnessed the playing of the Last Post at the Menin Gate. I walked through original trenches, and along stretches of both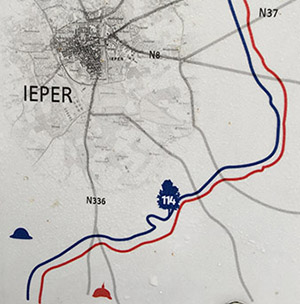 the British and German front lines – which in places were less than 75 metres apart – and through No Mans Land, one of the most moving parts of my trip. There were craters and cemeteries everywhere. Nothing, however, prepared me for Tyne Cot, the largest cemetery for Commonwealth forces in the world, for any war.
I have always believed that everyone should visit the battlefields to begin to understand what actually happened between 1914 and 1918. If you haven't been, go.
With my brain somewhat blown, I returned to Norfolk via a lovely weekend with friends in Kent, and life quietened down.
Work-wise I organised a very promising sponsorship meeting for Ros Canter. There is also a new website to build, and I'm exploring the opportunity of investing in a totally new business… more on that another time.