It's a party and I'll cry if I want to…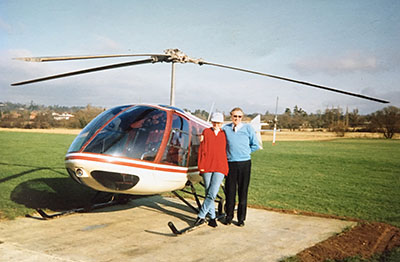 July has been a really great month – helped by the most amazing weather…. although I did have to move my daily ride to 6.30am to avoid the pesky flies.
I've been super-social; lunches, suppers, theatre, a wedding, a narrow escape from drama at sea… and – I have to say, best of all – Dennis Kenyon's 85th 'birthday/retirement from display-flying' party (click on the link to see some of his final display). The man is a total legend, with 20,000 helicopter flying hours and goodness knows how many public displays and film credits to his name. Back in the early 1990s he taught me to fly (the photo is just after my first solo, 27th January 1992) and opened a whole new world to me, setting me off on my now well over 1000 hour flying 'career' (helicopters and planes).
The wedding was pretty special too, even better thanks to enabling an overnight stay with Christopher & Diana – and delightful godson George – who live in the Borders. My gorgeous nephew Will married Rosie in Perthshire, with my uber-beautiful niece Bee as one of the bridesmaids. Will is in the Rifles, so there were lots of men in uniform (always good, from a purely aesthetic point of view of course), and the speeches were so moving I cried. Whilst I didn't stay at Monorgan, I stayed with the owner's charming daughter (they took pity on my plight when the Golf Open meant that everything for miles around was booked solid) – so I can be pretty confident that anyone looking for a B&B near Perth should call Kirsty at Monorgan first.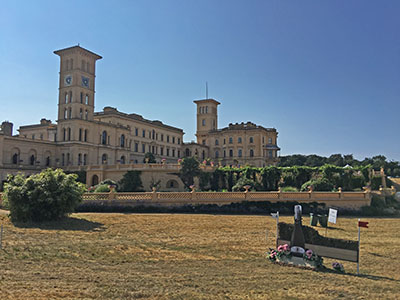 There was a bit of work involved in my month – I was press officer for the inaugural London Capital & Finance Osborne Horse Trials on the Isle of Wight. What a spectacular venue, and partner-in-crime Fiona was the perfect supper companion. Even better, Oliver Townend bagged most of the prize money 😉
The month ended rather as it started – Huevos Rancheros at Shucks with first Jo & Suz, my ex-next-door-neighbours and latterly with Growler, followed by the Burnham Market Auction… for once I escaped with my wallet intact.
August looks like rather harder work –  and the excitement of who will be selected for the World Equestrian Games. I'm putting money on three, if not four, of Manners Media's clients heading out to Tryon in the States this September… Fingers crossed.
---