Highs and lows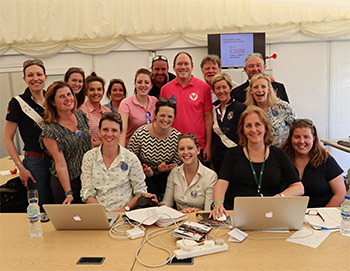 May already seems a blur – I really must look at my work/life balance! Badminton was a hoot, Ellie was back and it all went swimmingly (Media team, left). The only sad part was watching the retirement of one of my favourite horses of all time, last year's winner Nereo.
Oliver Townend was named the new World number 1 following his Kentucky win and he increased his points lead with 2nd and 5th places at Badminton, but no Grand Slam. The pressure must have been immense.
Rockingham and Houghton Internationals followed in quick succession, the sun shone and every press officer's dream – I got live TV coverage at both. BBC Look East came to Rockingham to film its Friday night sports programme, where Piggy French and Andrew Nicholson were wonderful interviewees, while it was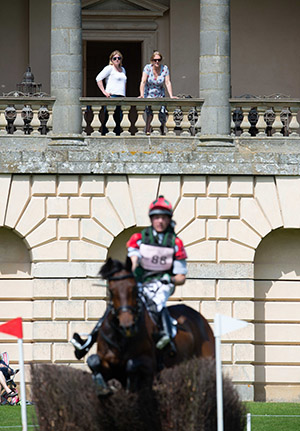 ITV Anglia venturing to Houghton, chatting to Emily Lochore and filming the weekend weather forecast.
Growler also came to Houghton, to help Henry Symington and me judge the Best Dressed at the trot up which was exceedingly entertaining – fortunately Henry remembered to switch off his microphone at all the crucial moments.
I finally got my act together, and on the Sunday Catherine Austen and I found the best place from which to watch the Nations Cup cross country – it was extraordinary how many of the photographers papped us…
Sadly, yet again, a month concluded with bad news. Noel Linge, a true countryman, Norfolk man and gentleman died on 29th, at the age of 89. You couldn't meet a more charming, twinkly person – super kind (he welcomed George – my horse – to stay when I first moved to Norfolk), he had time for everyone and nothing was ever too much trouble. I will miss him.
Photos © Julian Portch & Adam Fanthorpe
---
Andrew Nicholson, Houghton, Oliver Townend, Piggy French, Rockingham